Anonymous, the online hacktivist collective, has avenged the brutal murder of the
Charlie Hebdo
journalists. Shortly after the ghastly Paris massacre, the group
vowed to shut down websites
promoting terrorism and released a
video
declaring war against the terrorists. They kept their promise and shut down a number of confirmed ISIS websites as part of the ongoing operation, #OpISIS.
Anonymous' account, @OpCharlieHebdo (since suspended by Twitter), confirmed it took down the French terrorist website, ansar-alhaqq.net. The ansar-alhaqq.net page was directing users to the search engine
DuckDuckGo

.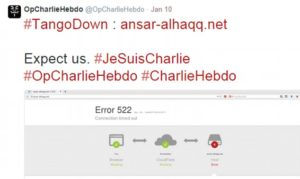 Some more of the ISIS websites that were taken offline by Anonymous / RedCult team:
#Target joinalqarda.com 144.76.97.176 #TANGODOWN
#Target alintibana.net 144.76.97.176 #TANGODOWN
#Target opcharliehebdo.com 104.28.7.87 (Imposter Website)#TANGODOWN
#Target islaam.com 97.74.45.128 #TANGODOWN
#Target Qa3edon.100free.com 205.134.165.186 #TANGODOWN
#Target daulahisamiyah.net 119.81.24.187 #TANGODOWN
#Target ansar1.info 79.172.193.108 #TANGODOWN
#Target jhuf.net 104.28.20.19 #TANGODOWN
Any website or email related to ISIS or Al-Qaeda will be targeted by Anonymous from now on. The group called on its followers and 'netizens' to help them find the terrorists.
Anonymous confirmed that ISIS did in fact obtain classified US intelligence documents. These documents were shrugged off by the mainstream media and the government as not being classified. However, it appears that they are exactly what ISIS claimed them to be.