Gold is trading at USD 1,623.80, EUR 1,177.95, GBP 1,027.01, JPY 124,535.72, AUD 1587.39 and CNY 10,354 per ounce.
Gold's London AM fix this morning was USD 1,623.00, GBP 1,027.02 and EUR 1178.14 per ounce.
Yesterday's AM fix was USD 1,629.00, GBP 1,033.24 and EUR 1,180.17 per ounce.

U.S. M2 Money Supply: Accelerating Sharply in 2011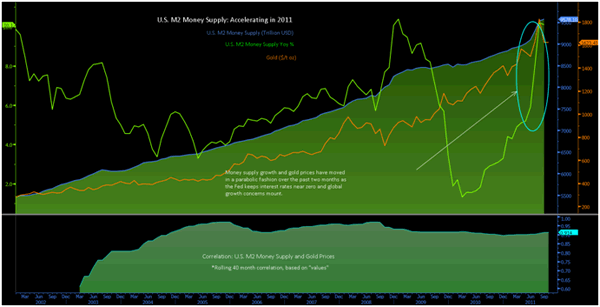 Gold prices are mixed today as markets remain on edge due to increasing divisions amongst European leaders on how to solve the intractable Eurozone debt crisis. There continues to be very strong demand for physical bullion globally and support is strong at the $1,600 level due to this demand.
The sharp fall of copper yesterday, by 6%, is an indication that the US, Chinese and indeed global economy is very fragile and may soon begin to contract.
Physical demand in Asia, mainly India and China, has entered the traditional peak season with Indian festivals and the increasingly important Chinese New Year.
This is reflected in premiums in Asia which remain good. There are reports of massive physical buying out of China on gold's fall close to $1,600 yesterday. The most active Shanghai gold futures traded at a premium of more than $10 over spot prices earlier today. The contract stood at 335.22 yuan a gram, or $1,634 an ounce, at a premium of $3.