Italy is not prepared to yield its traditional influence in Libya to its rivals.
Italian business and political circles take for granted their right to decide on the future of the oil and gas wealth of the country's former colony.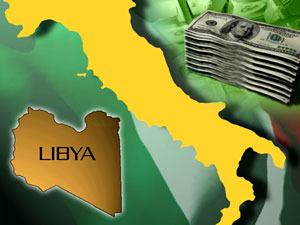 "Italy will be the first partner of Libya, as it always has been," Foreign Minister Franco Frattini declared September 3 at an economic forum in Cernobbio on Lake Como. "Italy will always maintain its first place."
At the same economic forum, Frattini announced the release of the first tranche of €500 million in frozen Libyan assets. By mid-September, the assets held by Italy are to be handed over to the imperialist-backed National Transitional Council (NTC).
Just a week earlier, Paolo Scaroni, the CEO of Italian energy giant ENI, traveled to Benghazi and reached an agreement with representatives of the NTC for ENI to reassume control over a gas pipeline and oil production in the regions of Misla and Sarir in the east of the country. In return, ENI will provide the so-called "rebels" with gasoline as well as technical assistance for oil production.
The agreement signed by both sides declares that ENI and the NTC will create the conditions for a rapid and complete reactivation of ENI's activities in Libya and do everything necessary to resume operations of the Green Stream pipeline. October 15 is specified as the date for the renewal of gas transport through the 500-mile pipeline from the Mediterranean to Sicily.
In March 2011, prior to the launching of the US-NATO war, Libya was producing over half a million barrels of oil per day. During the war production came to a virtual standstill, slumping to 60,000 barrels per day.
Before the war, 85 percent of oil exports went to Europe. The lion's share, about 30 percent, went to Italy.
After 2008, Italy had developed broad business relations with the Gaddafi clan. Libyan funds flowed not only to the energy company ENI and its gasoline brand Agip, but also to the Italian Unicredit bank, the carmaker Fiat, the defense group Finmeccanica, the Juventus football club and many other companies. ENI received 15 percent of its crude oil imports from Libya and the company produced 280,000 barrels per day of oil in the North African country up to the outbreak of the war.
On September 1, Italy reopened the doors of its embassy in Tripoli, which it had closed March 18. Like the French embassy, it had been looted and set on fire on May 1. France has also reopened its embassy, and Britain is about to do so.
Italy wants to secure access to Libyan oil and gas as rapidly as possible and outmaneuver its rivals. At the Paris Conference on September 1, there was already friction between "Libya's friends" over the spoils of war. The NTC had apparently promised 35 percent of Libya's future oil contracts to French President Nicolas Sarkozy.